Luton Model Railway Club
| | |
| --- | --- |
| A founder member of the Chiltern Model Railway Association | |
---
Members' Layouts - Swansea Riverside
| | |
| --- | --- |
| This layout was formerly built & owned by deceased member, Alistair George. It is available for exhibitions in his memory and now relocated to the Luton area following some years in Devon with another, now deceased member. | |
| | |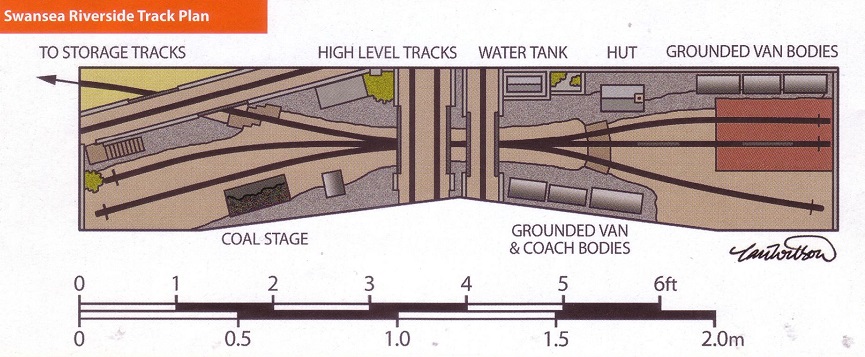 Further Information
Swansea Riverside is a 7mm ('0' gauge Finescale) layout set in the 1950s. It is based on one of the contractor's sheds in the Swansea docks, taken over by the GWR at the grouping in 1923, that were used to house the small shunters used around the docks and on the roadside lines in the dock area.
The depression of the 1930s and the ability of the GWR to rationalise its duplicated facilities in the areas of Danygraig and East Dock sheds, which were on the edge of the docks, led to the closure of the former SHT (Swansea Harbour Trust) shed and to its subsequent demolition. This proved to be a mistake as the small shunters spent too much time returning to the other sheds to replenish their meagre coal supplies, so the location was brought back into use but without any covered accommodation. In this state it remained in use until the duties of dock pilot were taken over by diesels.
The location of the site was between the River Tawe and the Prince of Wales dock. Not far upstream from here were the bridges that linked the docks to the east and west of the river, one at dockside level and the other on the 'main line' at high level. These two bridges and the former LMS riverside line from St Thomas to the docks have been used as the background scene to the layout. The locomotives used on the layout include several of the saddle tanks used around the docks and the inevitable collection of pannier tanks that no former GWR area was without. An occasional larger locomotive arrives to take water and await its return working, probably empties from the coal tips.
The supply of all materials to any shed in the 1950s was by rail, so wagons of coal, sand, ash and spares arrive and depart, suitably full or empty. The docks track was not always up to 'main line' standards and the coal wagons that passed through the docks in their thousands, especially the former PO wagons, were not always well maintained so the local breakdown vans make an appearance. An inspection saloon also appears from time to time.
---
Return to Top of the page
Return to Homepage
---
Club Webmaster
E-mail:

bristol.rell6l@googlemail.com


Last Modified: May, 2023
Copyright: LMRC 2021©