Luton Model Railway Club
| | |
| --- | --- |
| A founder member of the Chiltern Model Railway Association | |
---
Club Layouts - Central Works
This is the most recent layout to be built by the '0' gauge section. It is still under construction but it is available for display on the local exhibition circuit.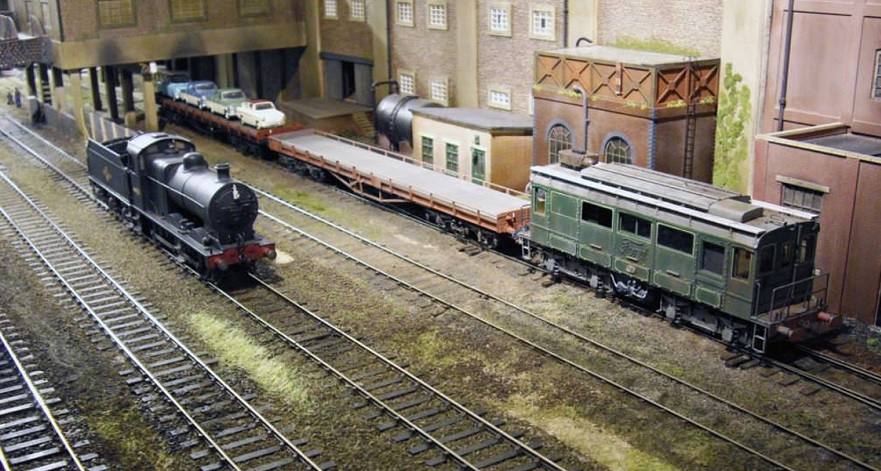 Further Information

Central Works trackplan

The layout depicts an industrial scene featuring a car assembly plant. It has two segments, the mainline exchange sidings and the industrial section of the factory complex.
Stock is predominantly freight but the ocassional passenger operation may be seen arriving at the short platform. These are generally workmens trains and do not appear in a public timetable. Traffic for the factory arrives in the form of raw materials and is exchanged into the works by the industrial locomotives. Completed vehicles are then returned to the main line for onward transport on CARFLAT vehicles.
Additionally, a working coal tippler is in use which provides fuel from loaded wagons to the plant boiler house. This tippler was generously donated to the LMRC by the Model Railway Club of London, so it would enjoy future use on a layout after their Happisburgh layout was decomissioned. LMRC are grateful for the opportunity to restyle the unit and display it in this layout for future enjoyment.
The location is based on the intense network of sidings that once existed at Longbridge in Birmingham. Although this was an Austin factory, the location may be adjusted to feature other makes of vehicles and thus regions of operation. A feature of this layout is the backscene with its lighting effects and steam/smoke emissions from the various factory processes.
Summary
Central Works - '0' gauge 7mm 1:43 Finescale
Period modelled - 1950 to 1960s
Layout dimension = 24ft x 2ft 6in (plus operating space at rear of 4ft minimum)
Fascia and lighting is optional to suit exhibition location
This layout is currently available for exhibition and has an insured value of £10,000 including operating stock
All electrical equipment used on this layout is fully safety tested and is traceable to the relevant standards where appropriate
---
Return to Top of the page
Return to Homepage
---
Club Webmasterr
E-mail:

Nigel.Adams@cobham.com


Last Modified: February, 2017
Copyright: LMRC 2017©